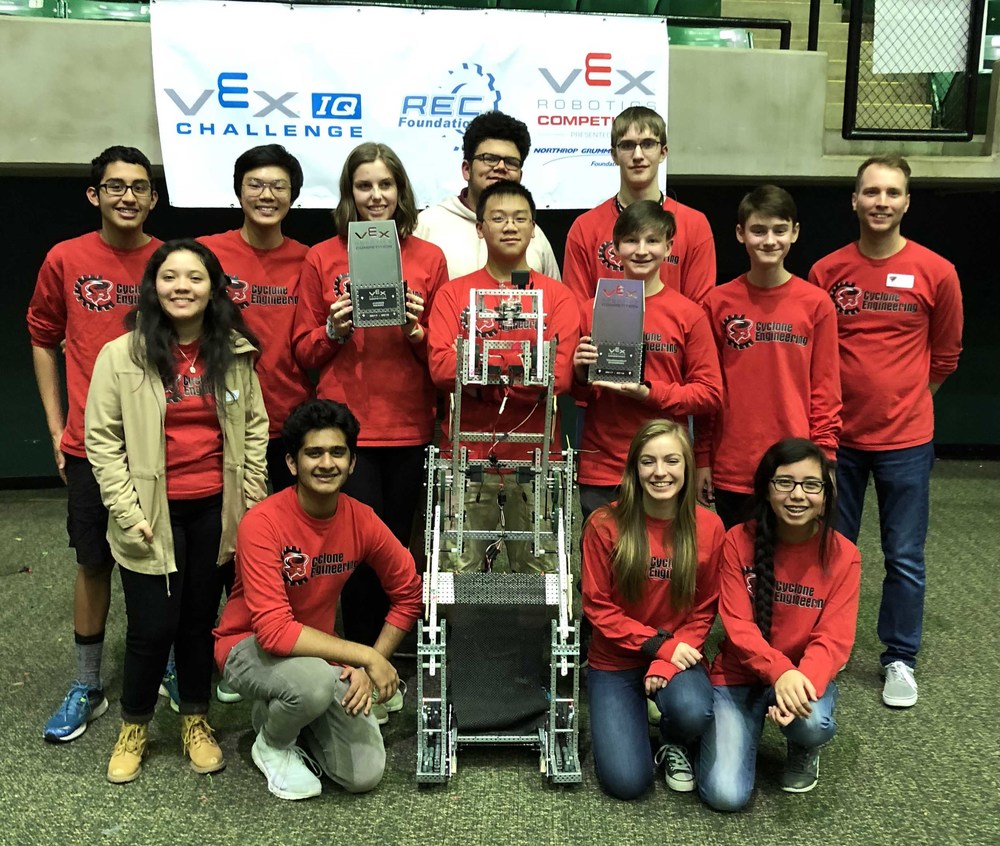 RHS Robotics
Ethan Hodge
Monday, March 05 2018
After a successful season winning six awards, Russellville High School robotics teams competed in the Arkansas VEX Robotics High School State Championship. Cyclone White, Cyclone Red, and Cyclone Black took on tough competition in the qualification rounds with Cyclone White ranked second and Cyclone Red ranked 5th out of 32 teams.
Cyclone White and Red were selected to be in two different three team alliances. Each of their alliances were then placed into an elimination bracket where they took on other alliances to determine which teams are the best in the state. Cyclone Red aligned with Sylvan Hills High School and Mills High School losing in the quarter finals to Drew Central High School, Bentonville West High School, and North East Arkansas Career and Tech Center. Cyclone White aligned with Bryant High School and Har-Ber High School. Their alliance went all the way to the final match beating Sylvan Hills High School and two teams from the Academies at Jonesboro High School.
Cyclone White won the tournament champion award which goes to the best three-team alliance that outscored all other teams in the final elimination rounds. Cyclone White is now qualified to compete at the 2018 VEX Robotics World Championship in Louisville, Kentucky. Cyclone Black also brought home a trophy for their tournament performance. They won the Judges Award for deserving special recognition. This award goes to the team that displays special attributes, exemplary effort, and perseverance at the event.
This year robotics in Arkansas has grown to a total of 275 teams. RHS Robotics is one of nine teams statewide that have qualified to go to the world competition. The students on the team say they are excited to win at the state level and are ready to face competition from all over the world this April in Louisville, Kentucky.