You're Invited! Cyclone Extravaganza is tomorrow, August 20th, starting at 8:00 a.m. Registration for the 5K opens at 7:30 a.m. tomorrow. For more information contact the Russellville Cyclone Athletics. Full schedule is below: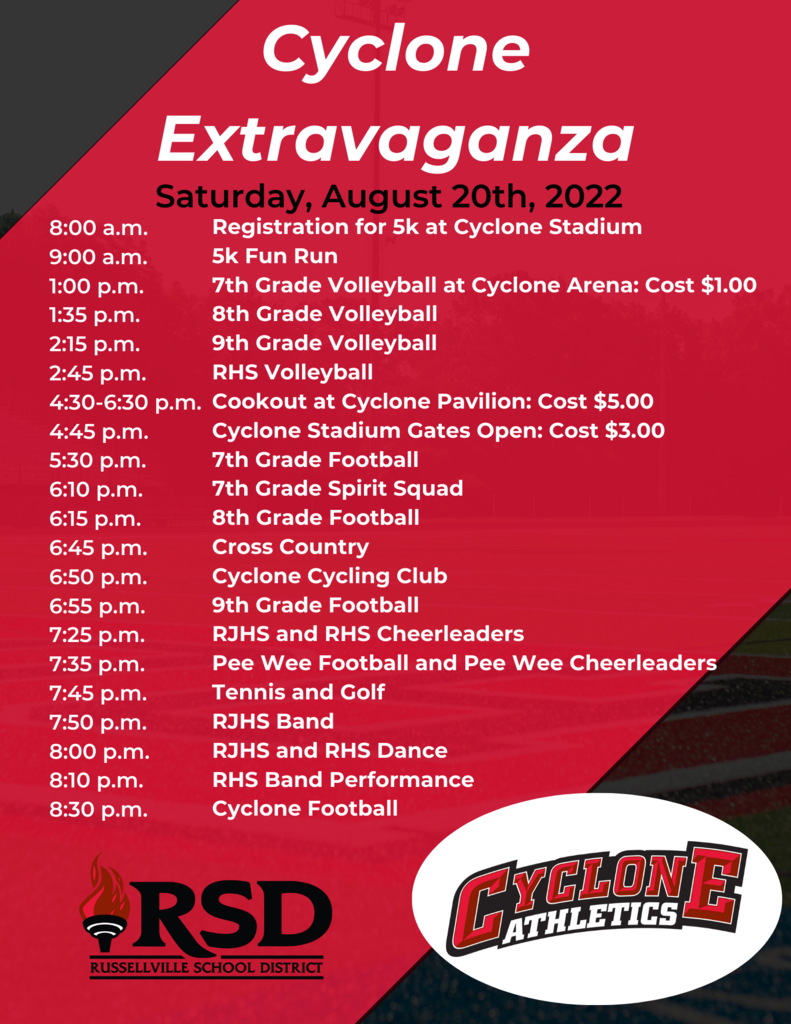 Attention Cyclone Fans- There will be two benefits games tonight: Lady Cyclones at Cyclone Arena: 5:30 p.m. - $5 entry fee Whirlwinds Football at Cyclone Stadium 6:00 p.m. - $5 entry fee. See more information below: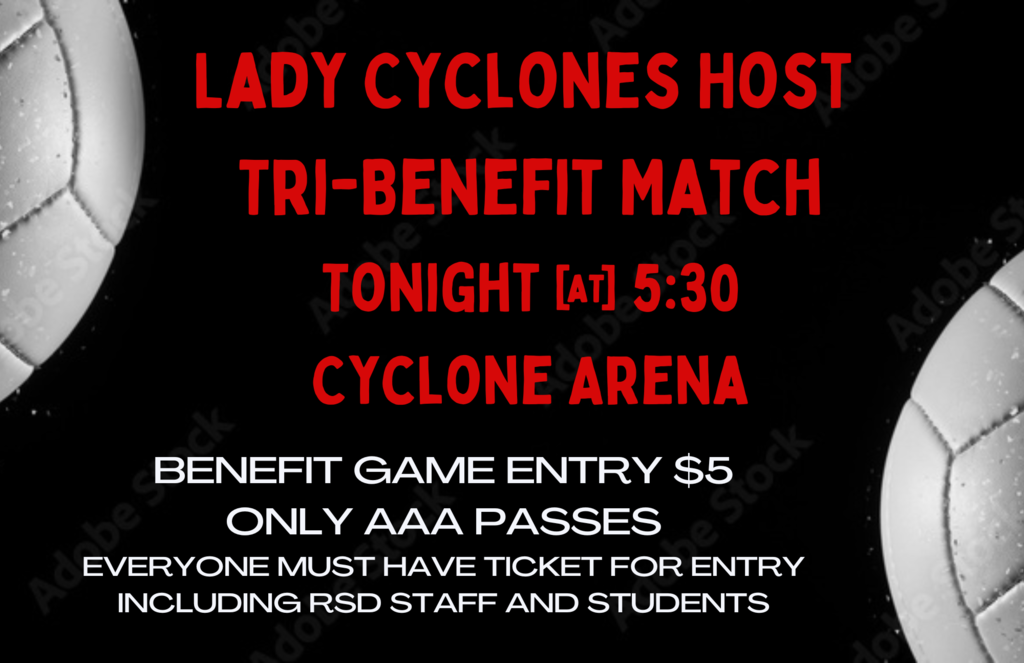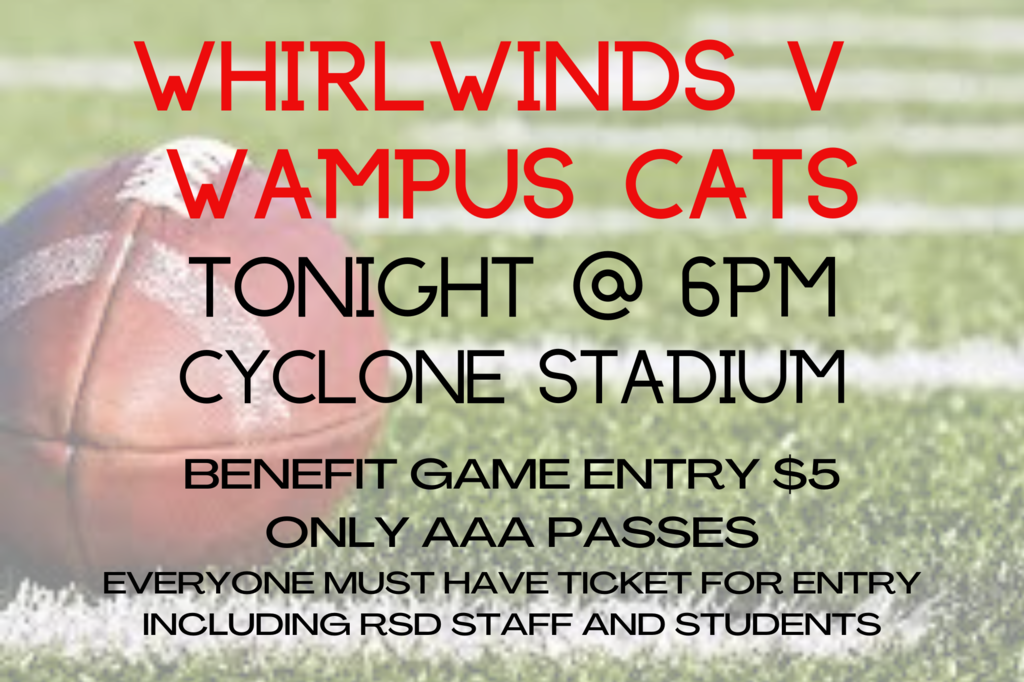 RHS Seniors had a great time at the Senior Breakfast yesterday. Thank you to Chick Fil A, McDonald's, Beacon Tire, Beacon Retail, Little John Transportation, Daylight Donuts (West Main), Aramark, RHS ABC Parents, and Leigh & John Whiteside for sponsoring this Welcome Back tradition. #ForwardRSD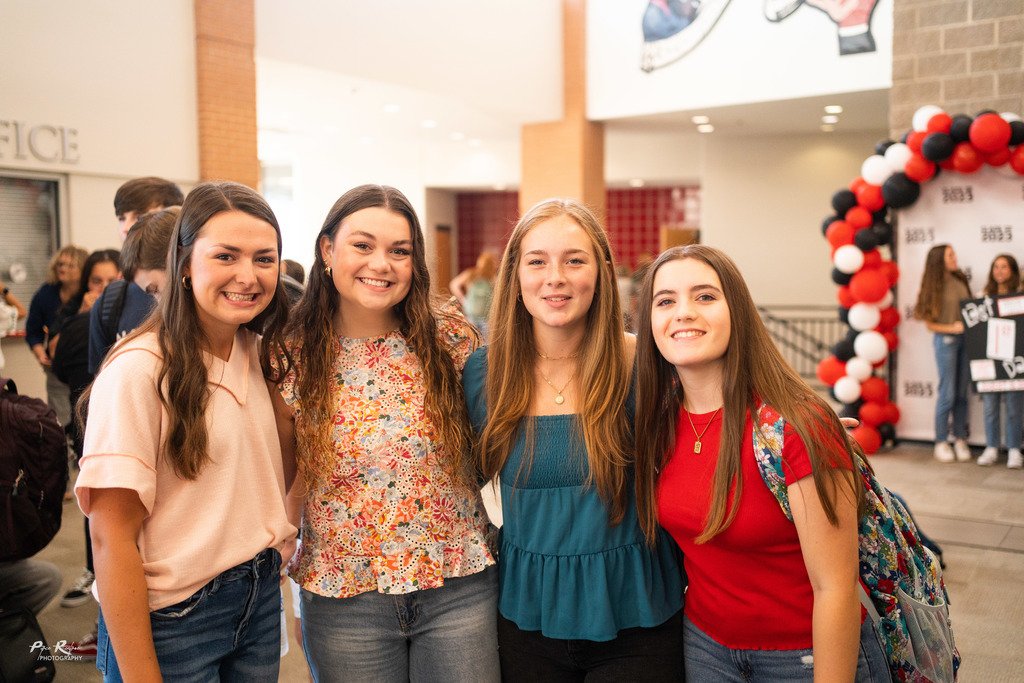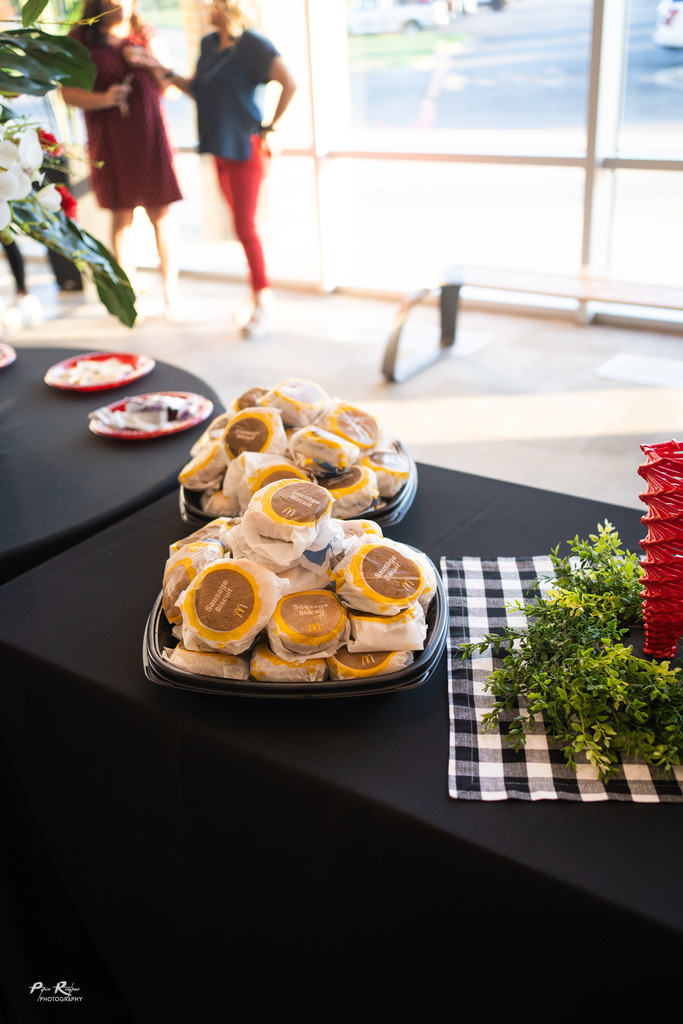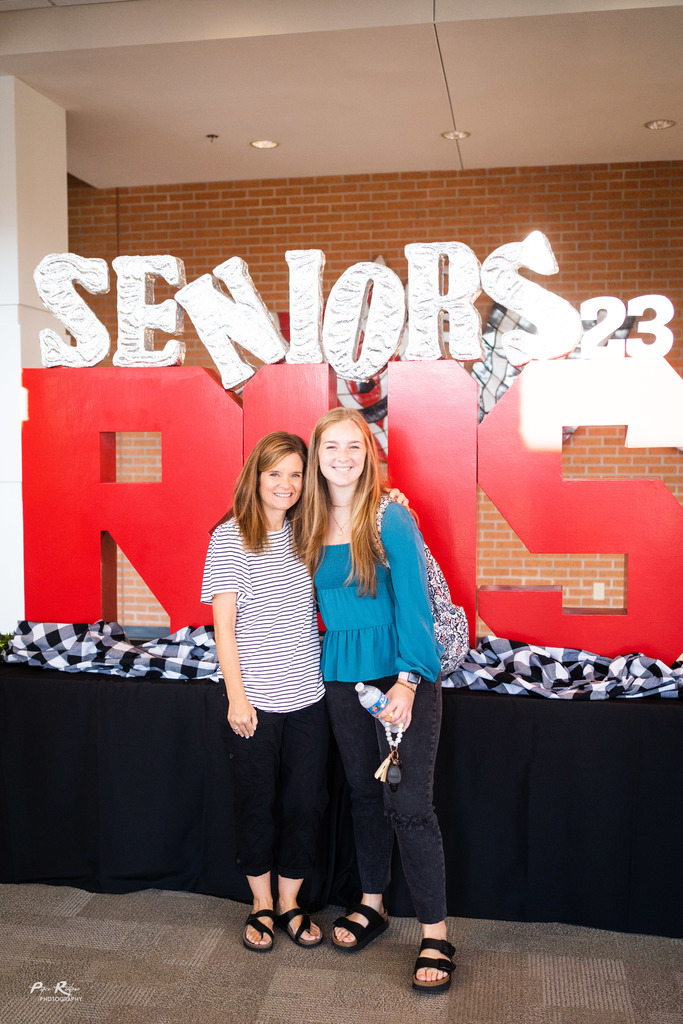 Aramark is the food service provider for the Russellville School District. They offer a wide selection of menu options including a variety of fruits and vegetables each day of the week, entrée choices geared to student age level, and different menu options on each day of the monthly menu cycle.​ School lunch menus can be found here:
https://russellvillesd.nutrisl...​
The Russellville School District is providing free breakfast to all students during the 2022-23 school year. Student lunches are $3.25. To create an account or to log in to manage your child's current account, please visit the Titan website here:
https://family.titank12.com​
The 2022-23 Free and Reduced Meal price information can be found here:
https://core-docs.s3.amazonaws...​
To find out more about RSD Dining Services, please visit our website:
https://russellvillear.sites.t...​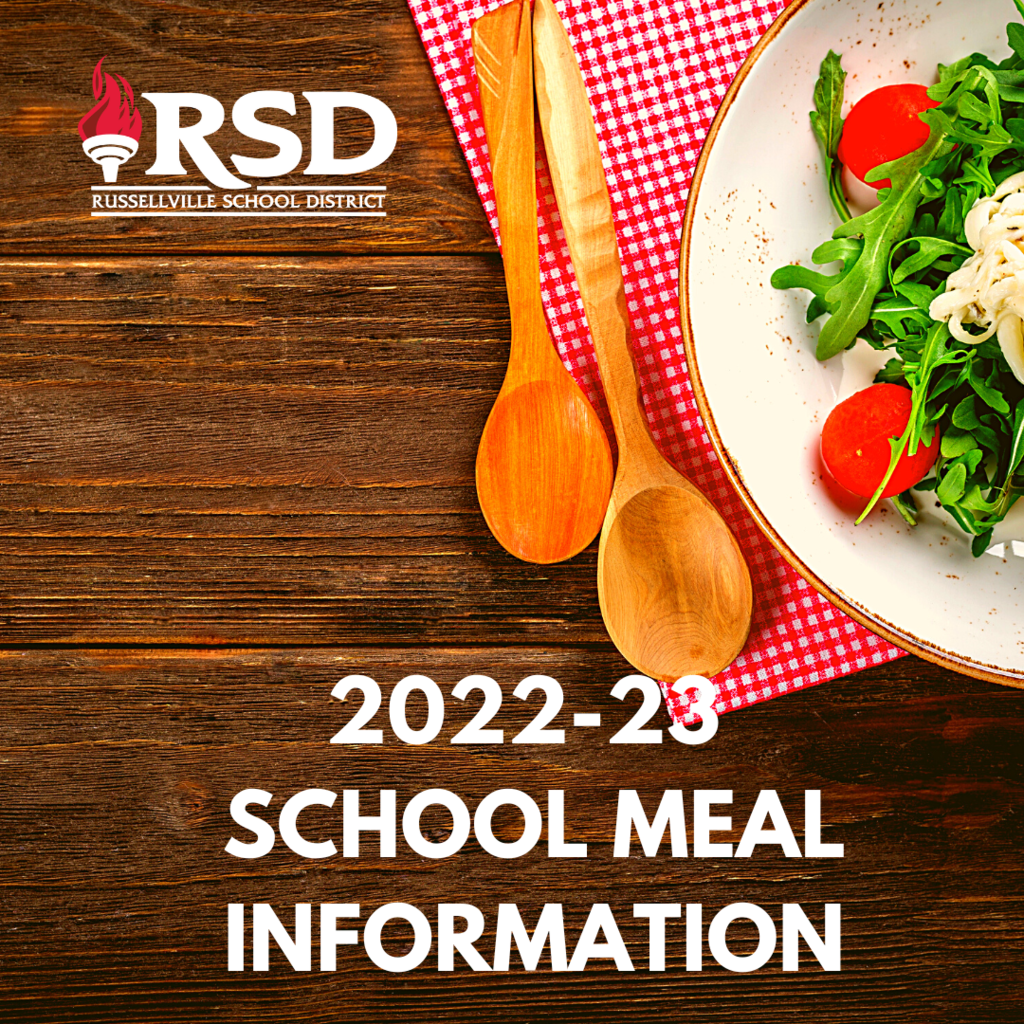 The First Day of School for the 2022-2023 School Year has started with lots of happy smiles and the best "Welcome Back" hugs! Thank you to Russellville Police Department & Mayor Richard Harris (not pictured) for helping RSD welcome back our students! #ForwardRSD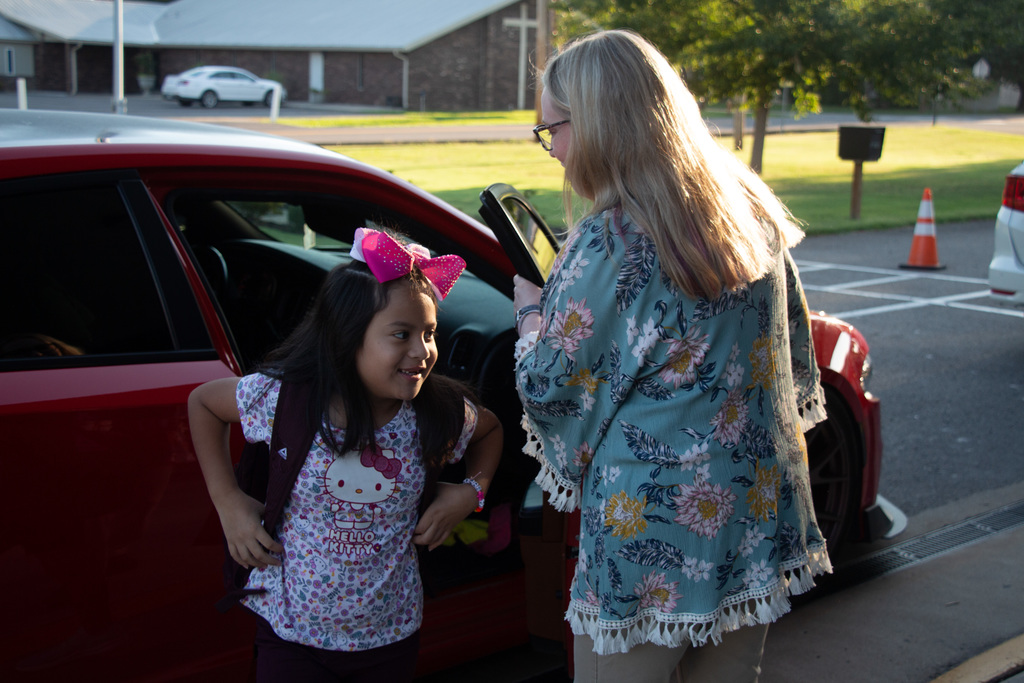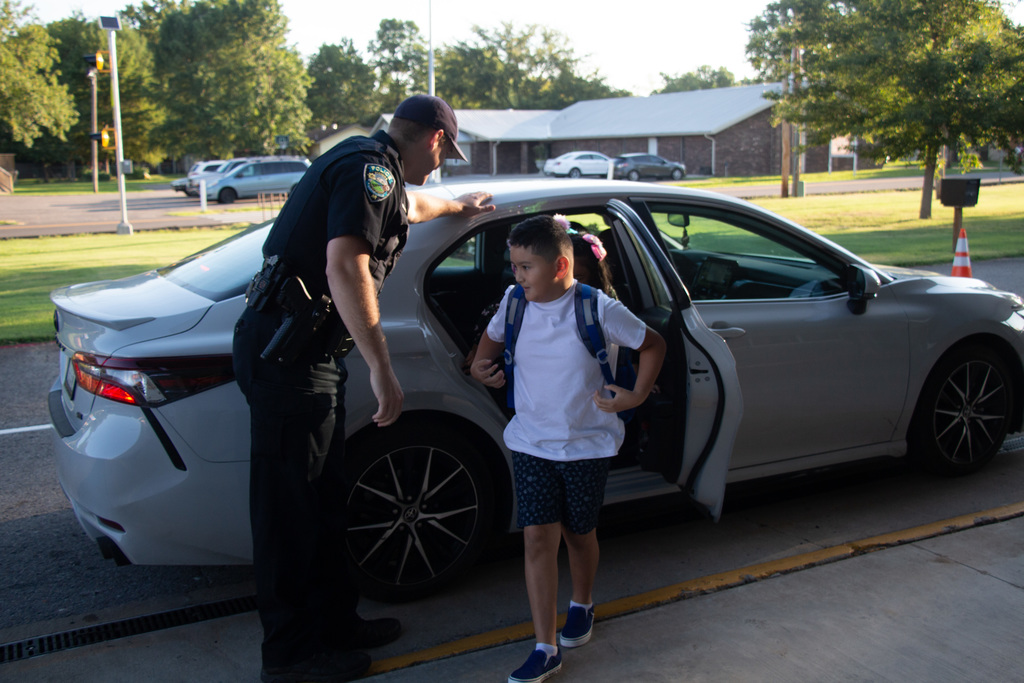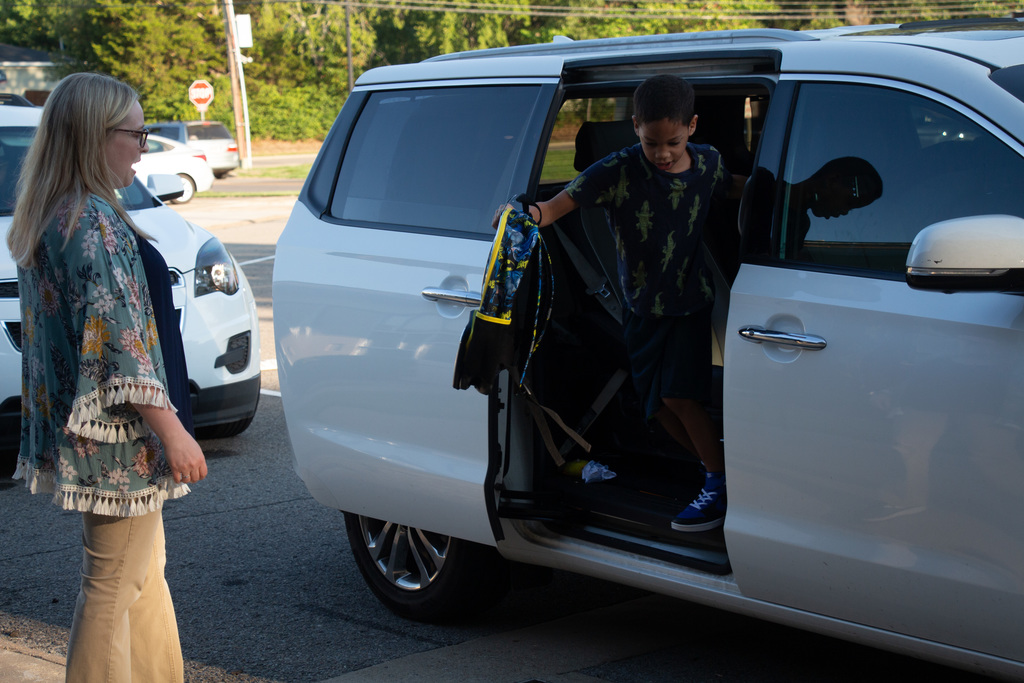 The RSD Leadership Team wishes all of our students and staff a wonderful 1st day of school! #ForwardRSD #AchievingExcellenceTogether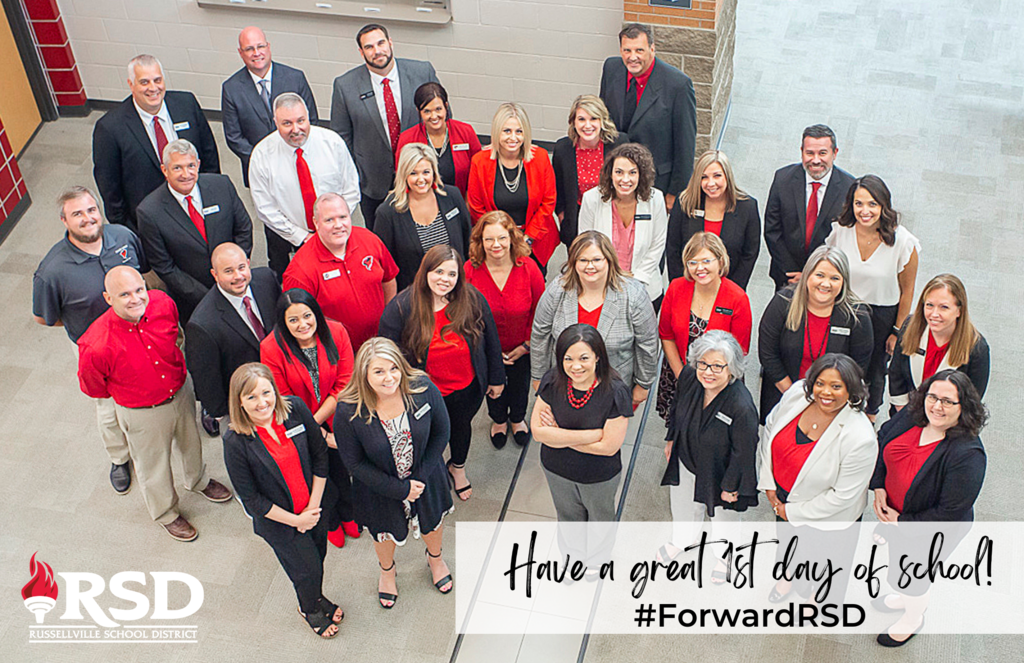 RHS Seniors are invited to the Senior Breakfast on Monday, August 15th beginning at 7:15 am. The breakfast is held at The Center for the Arts. It's going to be a great year! #ForwardRSD #Classof2023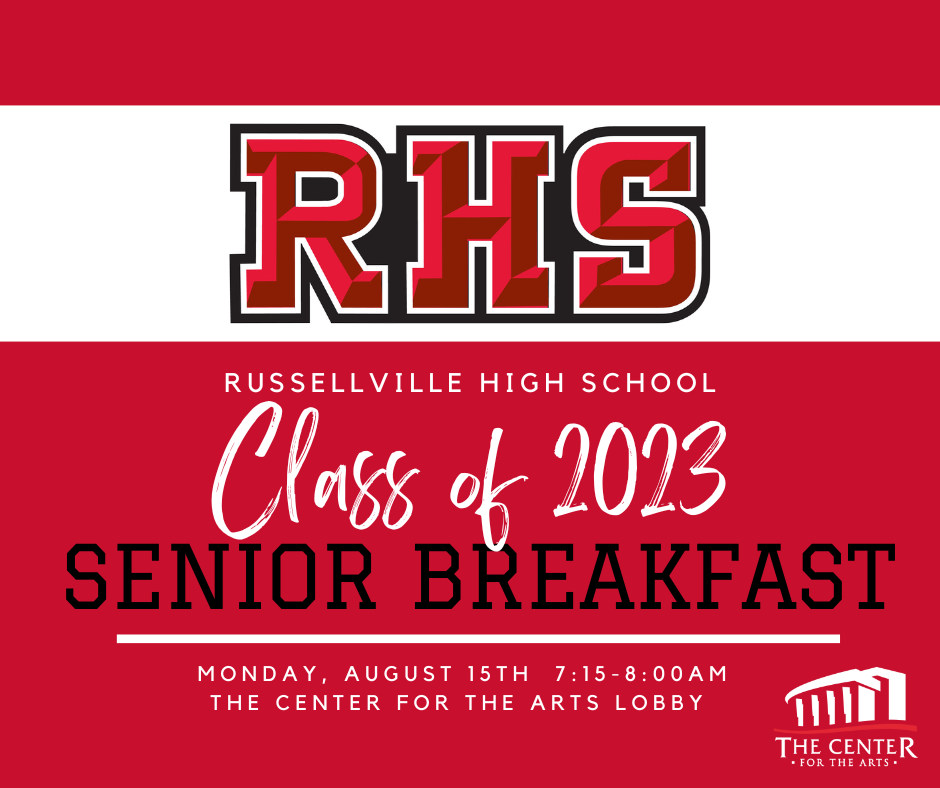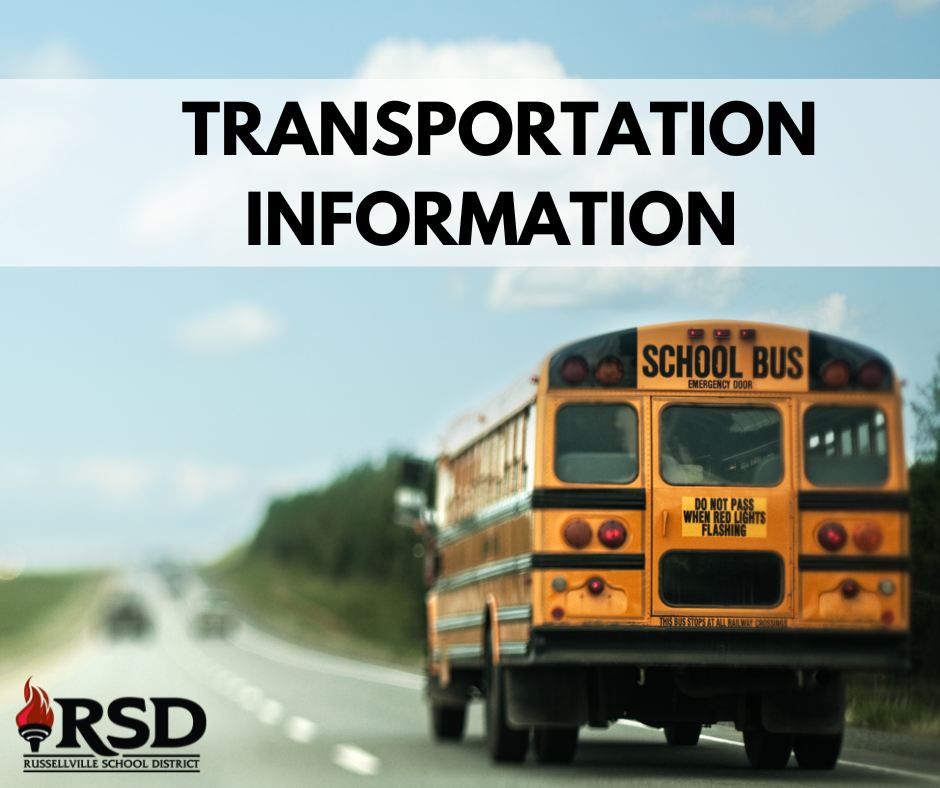 RSD secondary schools will host Open House tonight, August 11th. Please see the schedule below: RIS 4-6 pm RMS 4-6 pm RJHS 4-6 pm RHS New Student & Sophomore Orientation 5-6 pm RHS Open House 6-7 pm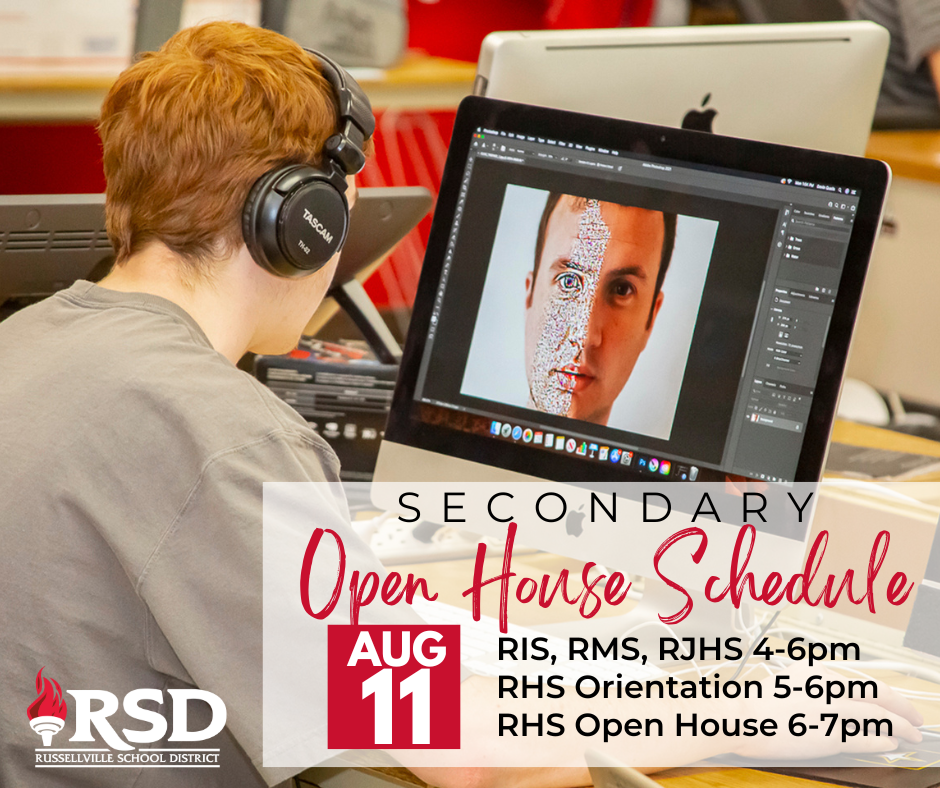 IMPORTANT INFORMATION: All RSD buildings and offices will be closed Thursday, August 11th and Friday, August 12th for districtwide professional development.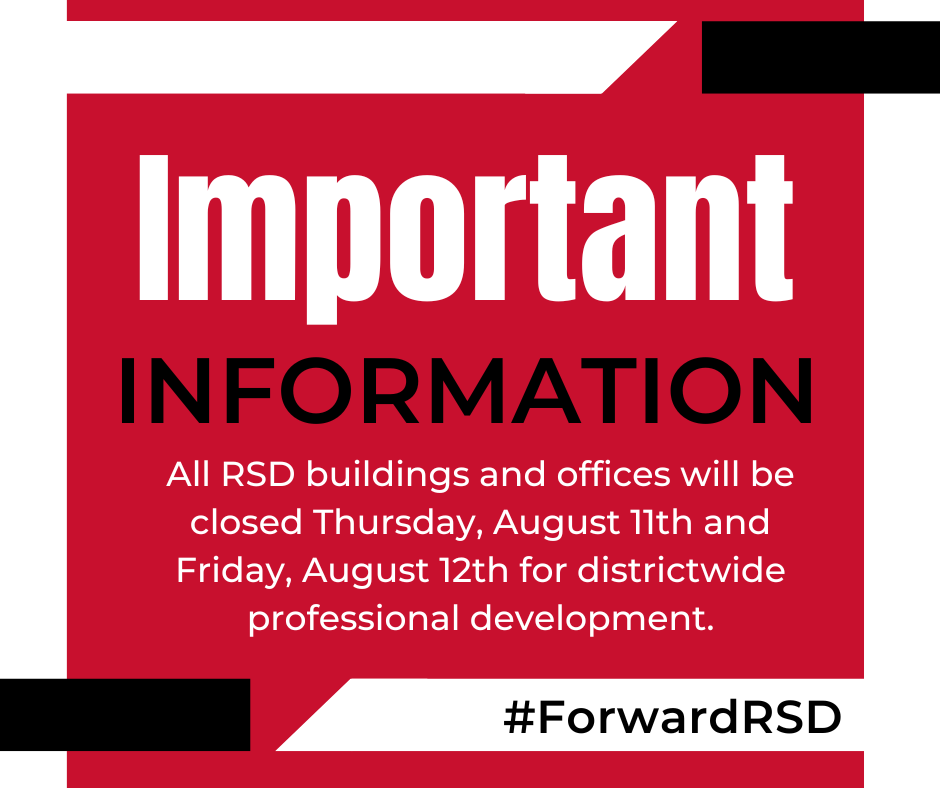 Dr. Ginni McDonald, RSD Superintendent, and Chrissy Clayton are attending the Russellville Area Chamber of Commerce Business Expo tonight. The Expo will be open tomorrow from 9am-3pm. Please stop by the RSD booth! #ForwardRSD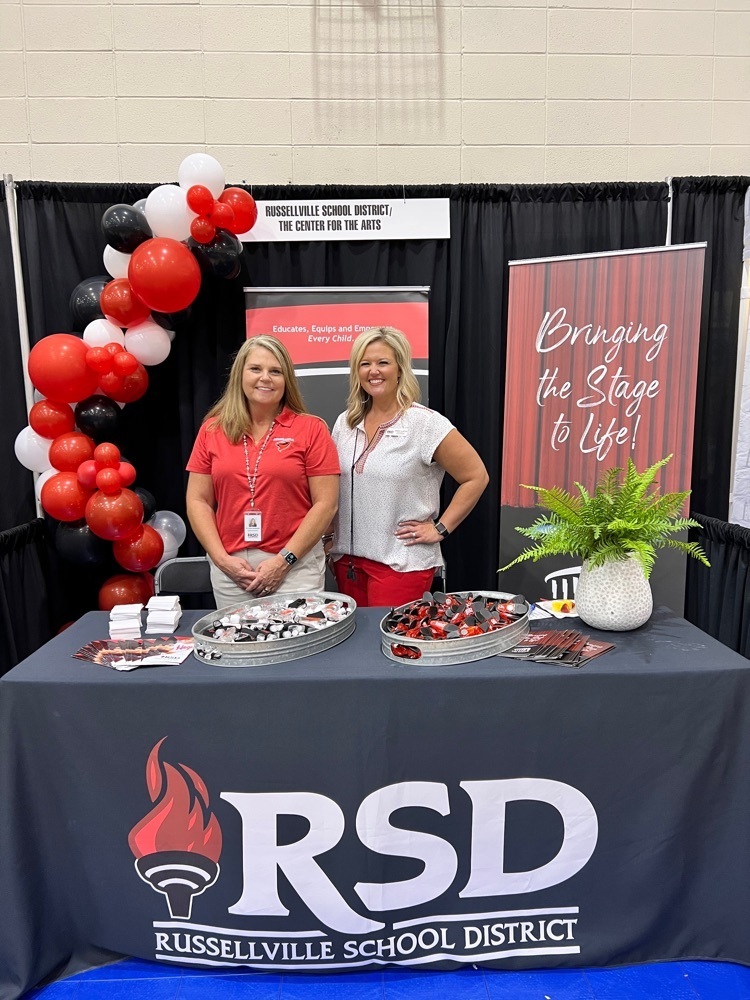 RSD elementary schools will host "Meet the Teacher" today, August 9th, from 4:00 p.m. - 6:00 p.m. at each campus. This is a come and go event for students to meet their teacher and see their classroom. It's going to be a great year! #ForwardRSD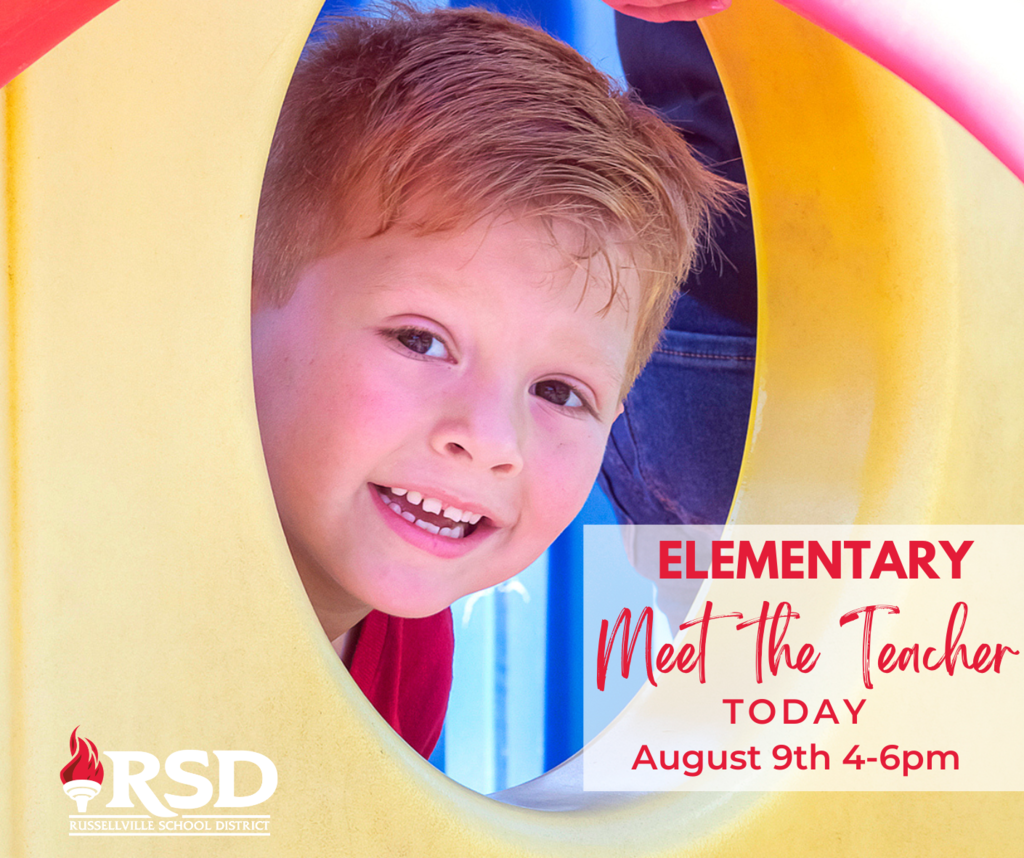 RSD Board Member Spotlight: Georganne Rollans Mrs. Rollans is a former RSD Elementary School Principal and says her favorite part of RSD is all of the teachers and students. Learn more about Mrs. Rollans and her RSD Why below: #ForwardRSD

Returning RSD student registration is now open! Emails have been sent, but please be patient as they are sent gradually. Please check for emails sent from Arkansas State Department of Education. The subject line will say Russellville School District Returning Registration for "your child's name". If you have not received an email for your child by Tuesday, August 9th, please contact your child's school. For more information and instructions, please visit the RSD website:
https://www.rsdk12.net/article/799219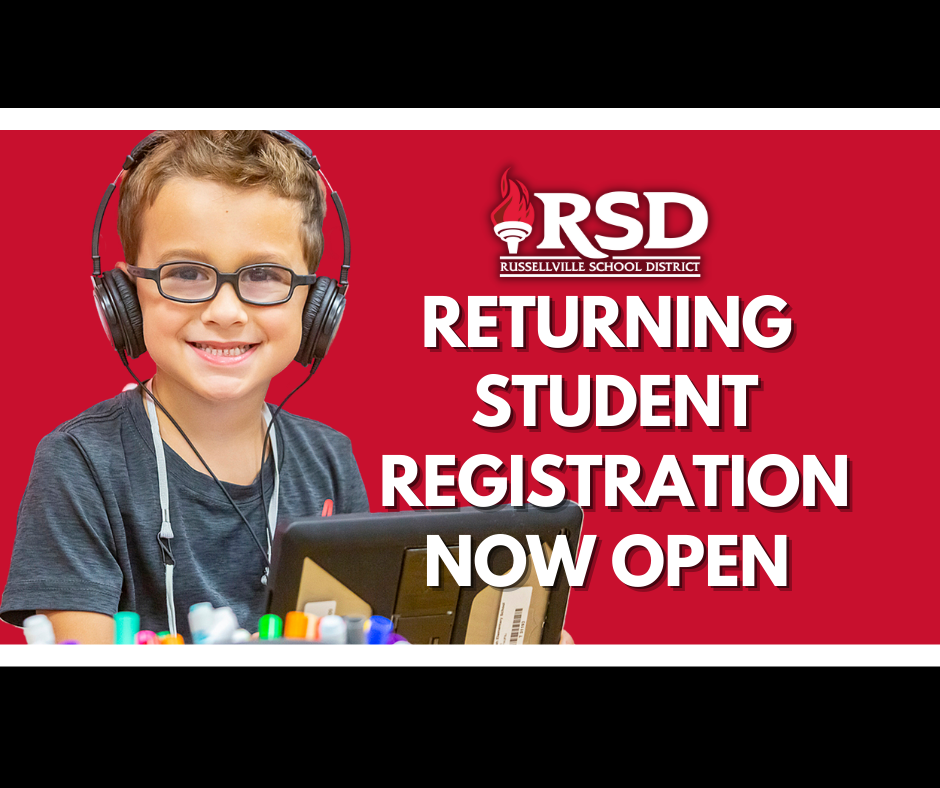 The RSD Board of Education has raised the Base Teacher Salary to $45,000 & approves $1,000 bonus for all staff. This is the largest salary raise in RSD recorded history. #ForwardRSD Please read more here:
https://www.rsdk12.net/article/798956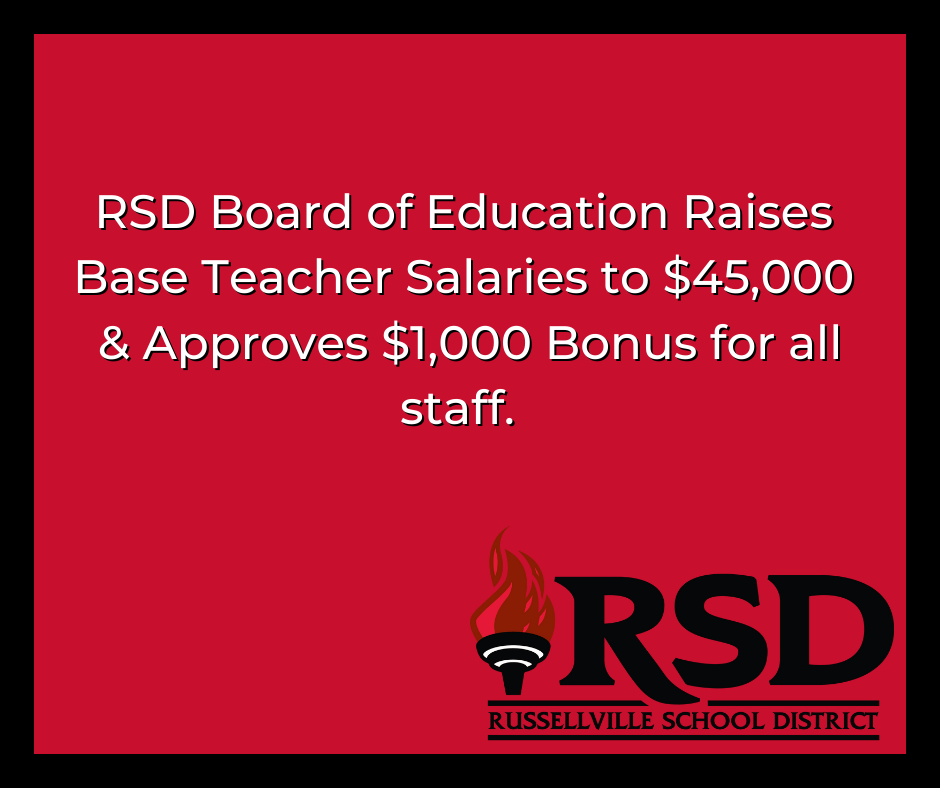 We had a great turnout for Meet the Principal at Dwight & London Elementary! Just 12 more days until the 2022-2023 school year begins! #ForwardRSD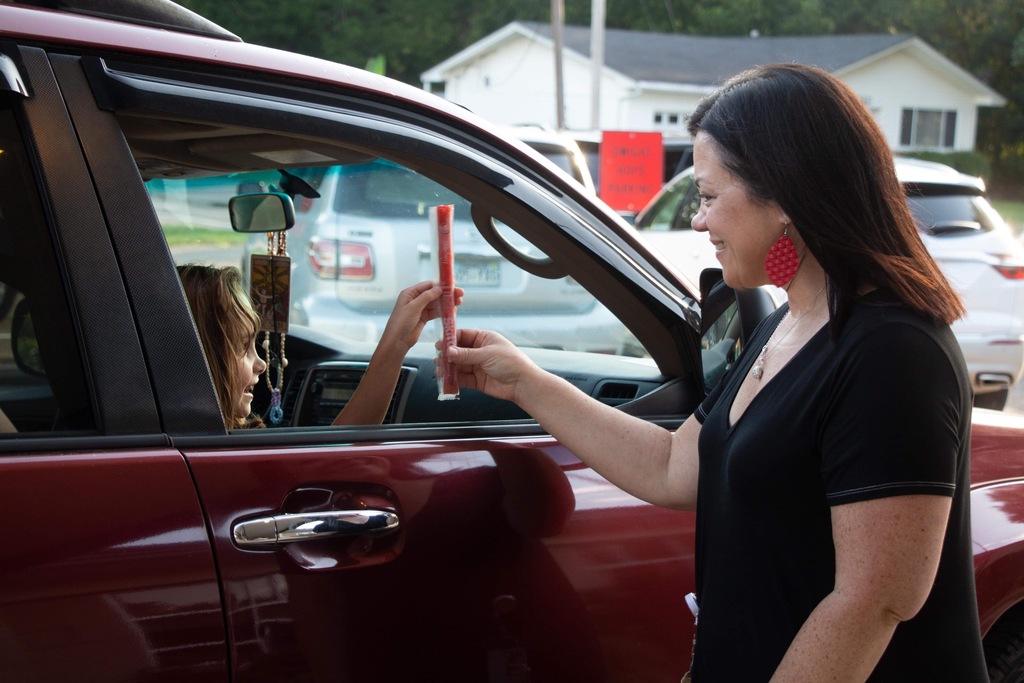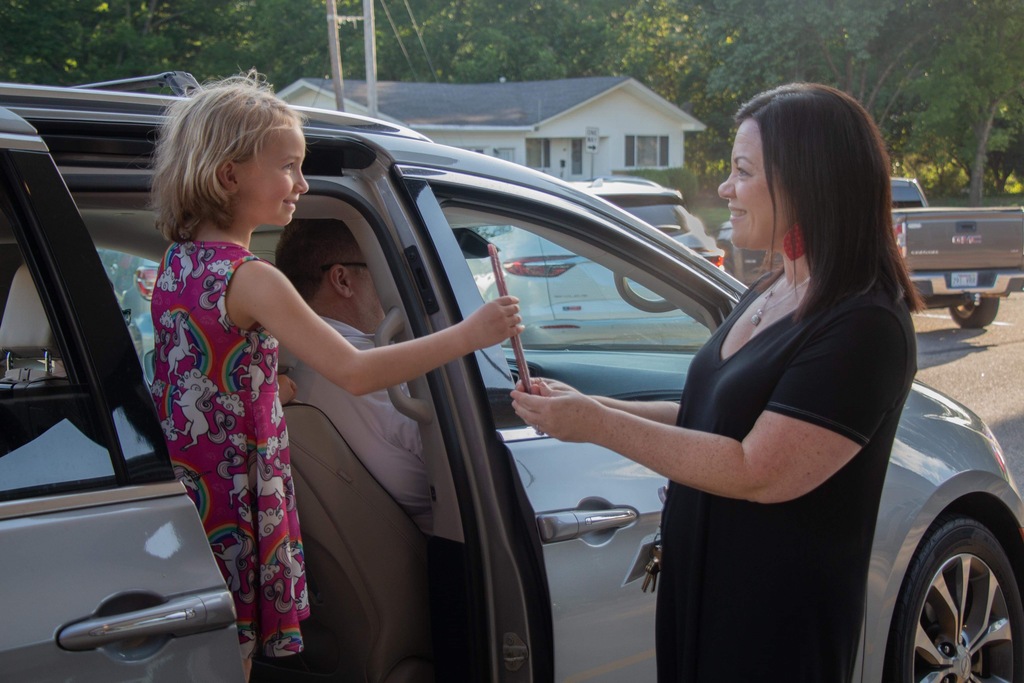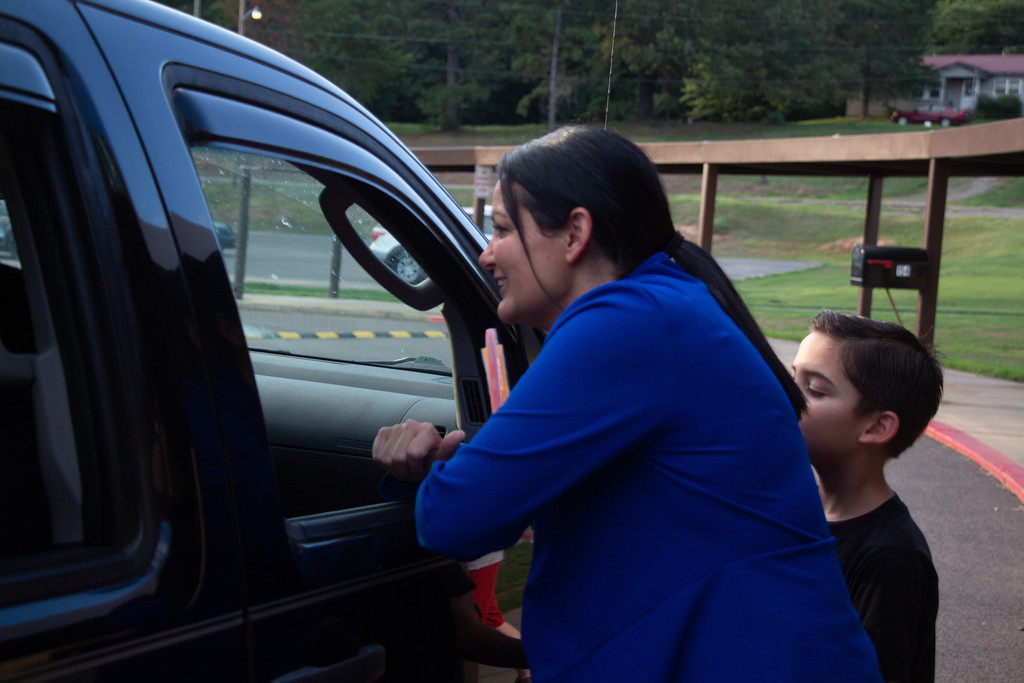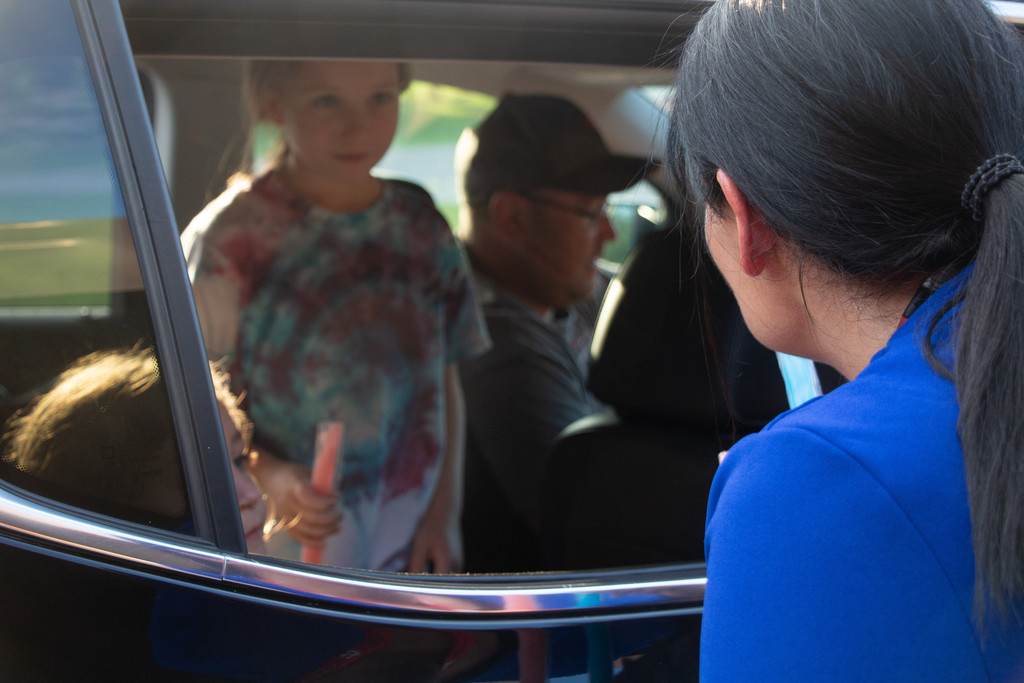 Dwight Elementary and London Elementary are both welcoming new principals this year! You're invited to drive thru tonight between 6:30-7:30 for a popsicle from your principal!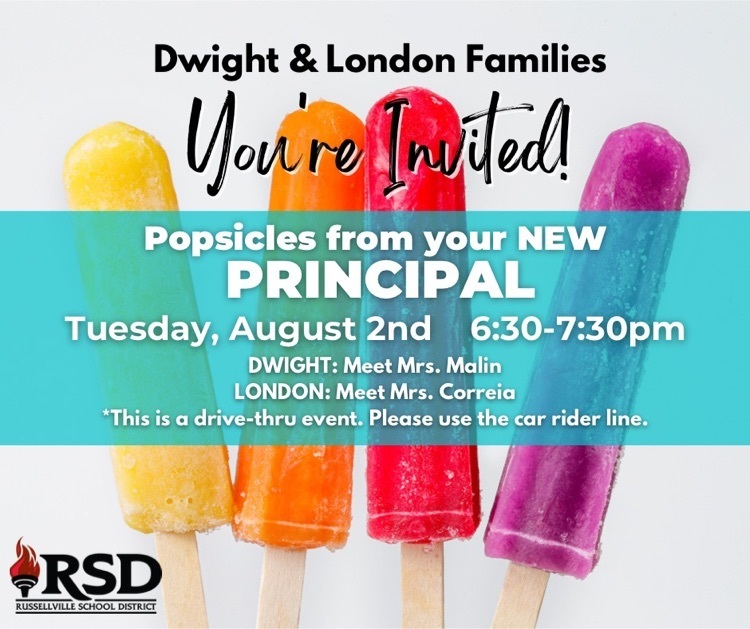 Drop in and meet Mr. Brad Ray, new Russellville High School principal, today at The Center for the Arts between 12:00-1:00 P.M. or 5:00-6:00 P.M. Students, parents, teachers and community members are invited to welcome Mr. Ray to Russellville. #ForwardRSD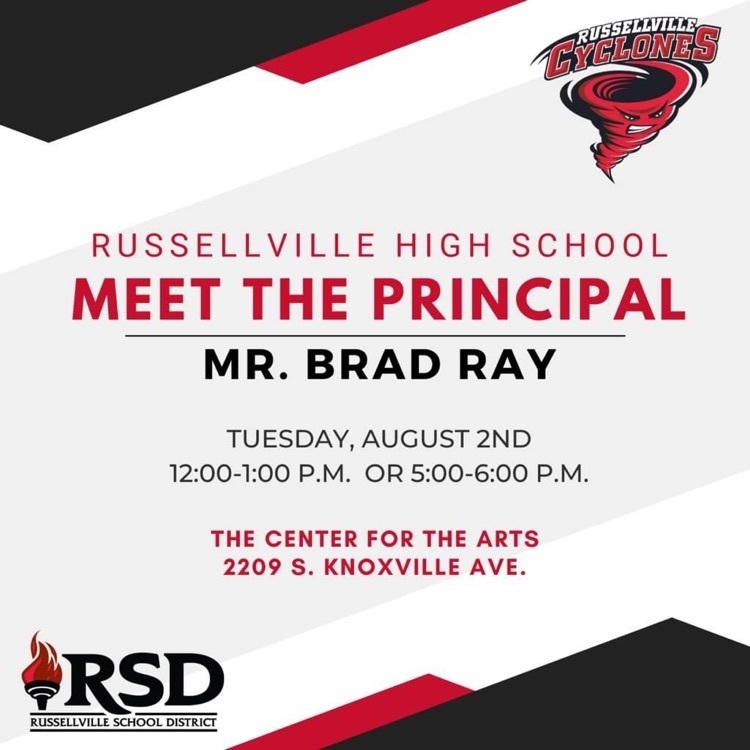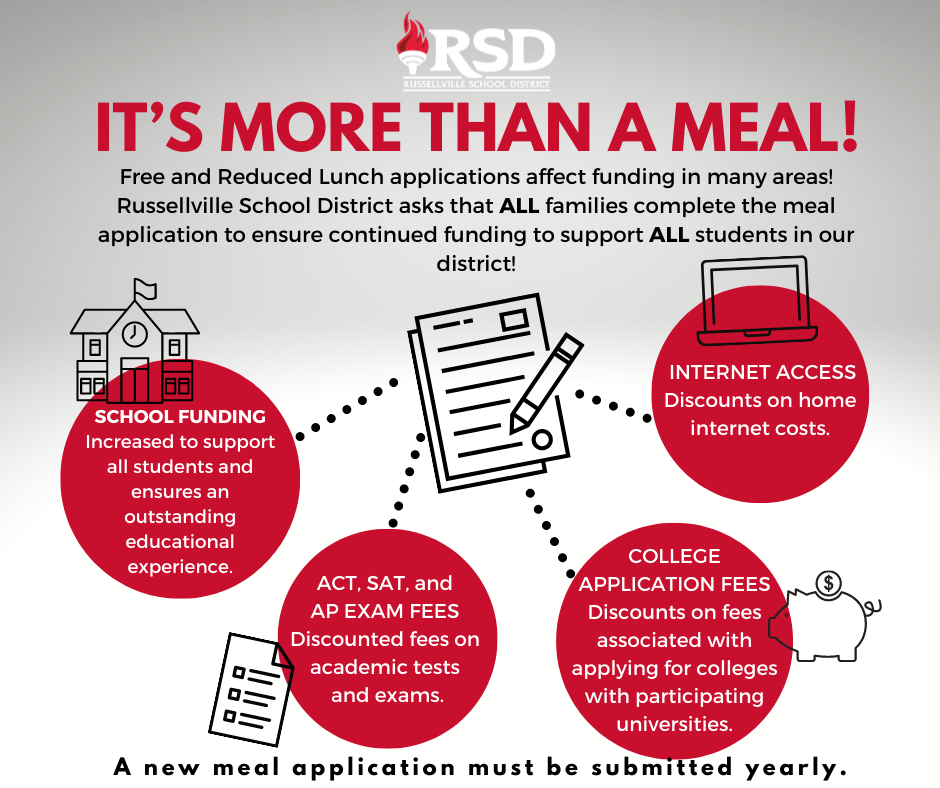 Russellville High School students may pick up their laptop and schedule in the RHS Library this week according to the schedule below: Tues 8/2: Seniors 11:30-3:30 Wed 8/3: Juniors 11:30-3:30 Thurs 8/4: Sophomores 8:30-3:30 Friday 8/5: Make Up Day 11:30-3:30 Each student will be required to sign and return a Computer User Agreement Form and a Laptop User Agreement Form. $5 Parking permits are also available during this time. Other Important Dates: Thurs 8/11: Orientation at The Center for the Arts 5-6pm Thurs 8/11: Open House 6-7pm Mon 8/15: Senior Breakfast at The Center for the Arts 7:15-8am Mon 8/15: 1st Day of School If you have questions, please contact the RHS office at 479-968-3151.